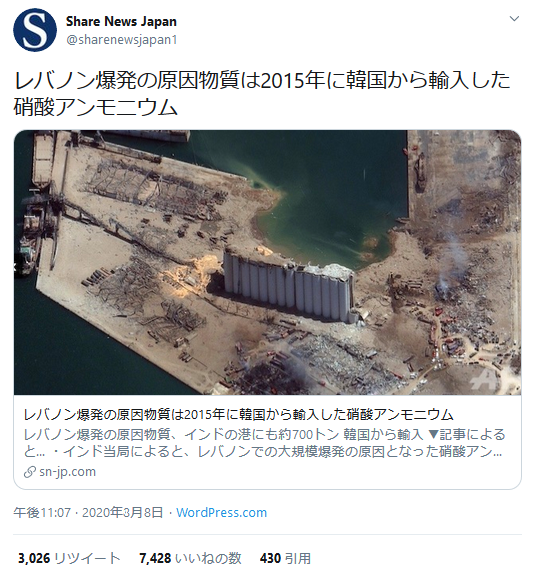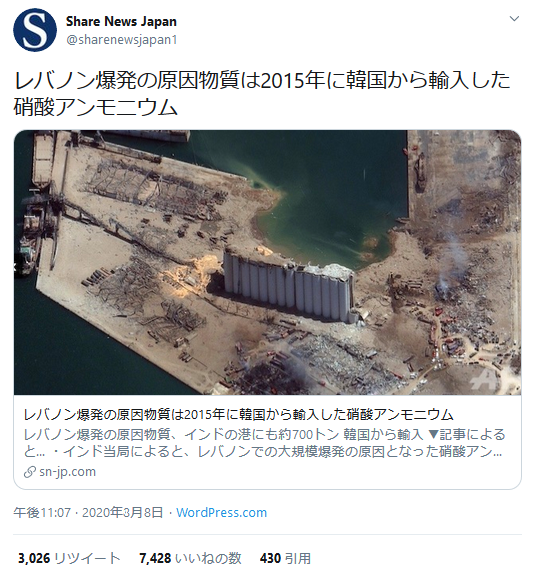 An article with the headline "The chemical ingredients behind the Lebanon blast – ammonium nitrate – had been imported from South Korea in 2015" was posted on August 8th in a news aggregator website Share News Japan and shared widely on Twitter, with over 3400 retweets. Ammonium nitrate stored in a port warehouse is believed to have sparked the massive explosion that rocked Lebanese capital Beirut on August 4 (here).
While the title of the Share News Japan article explicitly claims the ammonium nitrate behind the Lebanon blast had been imported from South Korea, this is not true. The August 8th AFP article which Share News Japan cites as its source, states that "ammonium nitrate imported from South Korea" has also been found to be stored in a port in India.
According to AFP and CNN, the ammonium nitrate that exploded in Lebanon arrived in 2014. It was seized in Lebanon after it had been loaded onto a Moldovan-flagged ship owned by a Russian company that had been traveling from Georgia to Mozambique.
Partial reproduction from InFact 'Weekly: Summary of Information Verification on the Internet (vol.45) '. The original report in Japanese is here.
(Rei Ofuna)