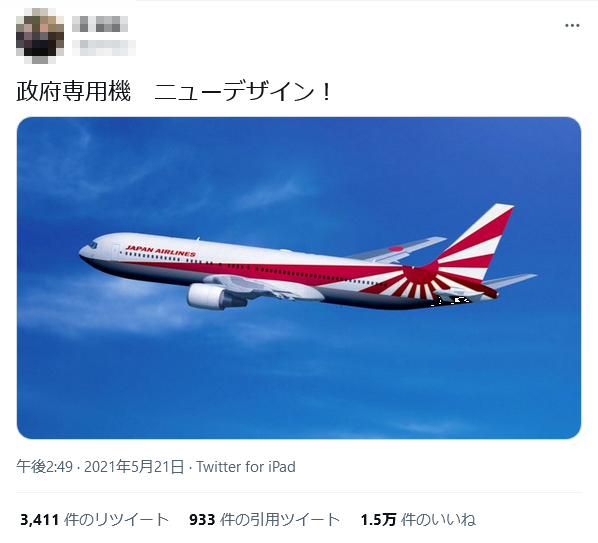 Target article

"New Government Plane Design!" posted on twitter May 21, 2021, receiving about 4300 RTs and15,000 Likes as of July 13, 2021.
The image of a Japanese government aircraft with a large 'rising sun' flag-like pattern was spread on twitter with the comment "New Government Plane Design!"
To verify this twitter article, first, we contacted the Japan Air Self-Defense Force (JASDF), which manages and operates government aircraft on June 25.
Within a few hours of our inquiry, we received the following response from the Public Relations Office, General Affairs Division, General Affairs Department, Air Staff Office, Ministry of Defense.
Q1) What are the designs of government aircraft currently in service?
Answer) The design of the government aircraft operated by JASDF is shown in the attached file(shown below).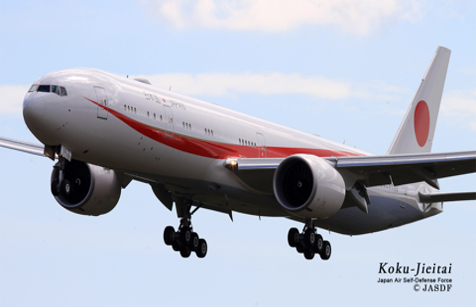 Q2) Are there any plans to change the design of government aircraft?
Answer) There are no plans to change the design at this time
We also contacted Japan Airlines (JAL) that has helped SASDF for maintaining the government aircraft.
On July 8, we asked JAL if there is actually government aircraft of this design with JAPAN AIRLINE logo? We received the response from JAL on the next day, saying "JAL group does not have any aircraft of the relevant design."
According to the Prime Minister's Office site (only available in Japanese), two "Boeing 777-300ER" government aircraft are currently in use. The planes have been in their duty since 2019.
Conclusion: False
The aircraft image on the article is a fictitious one, different from the design of the government plane currently in operation, and also different from those that have been used in the past. In addition, JASDF has stated that it has no plans to change the design at this time. Therefore, we rate the article " False".
If the tweet sender created the image and sent it out him/herself, it would be "Fake", but since it is impossible to confirm whether the creator of the image and the sender are the same person, we rate it "False".
InFact is a member of the Fact-Checking Initiative (FIJ) media partners. This article is based on InFact's basic fact-checking policy and FIJ's rating criteria.