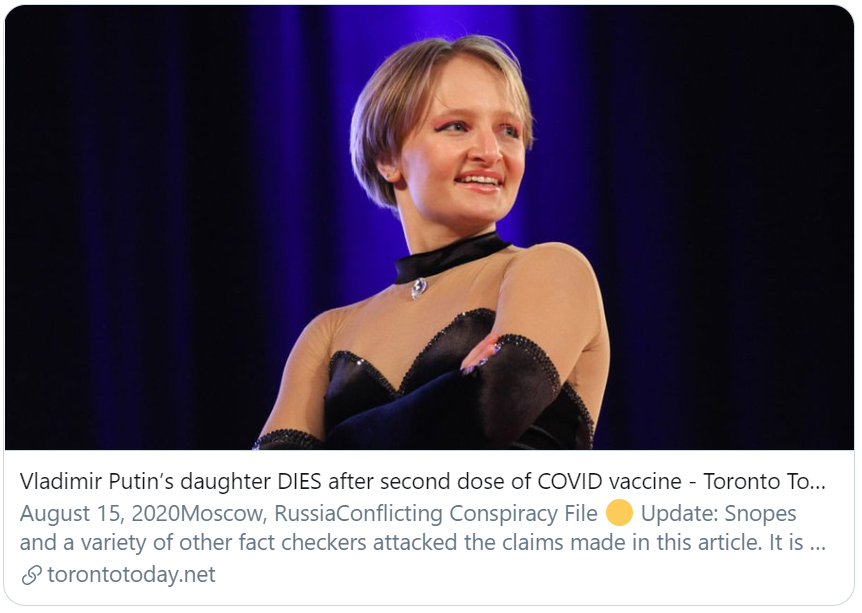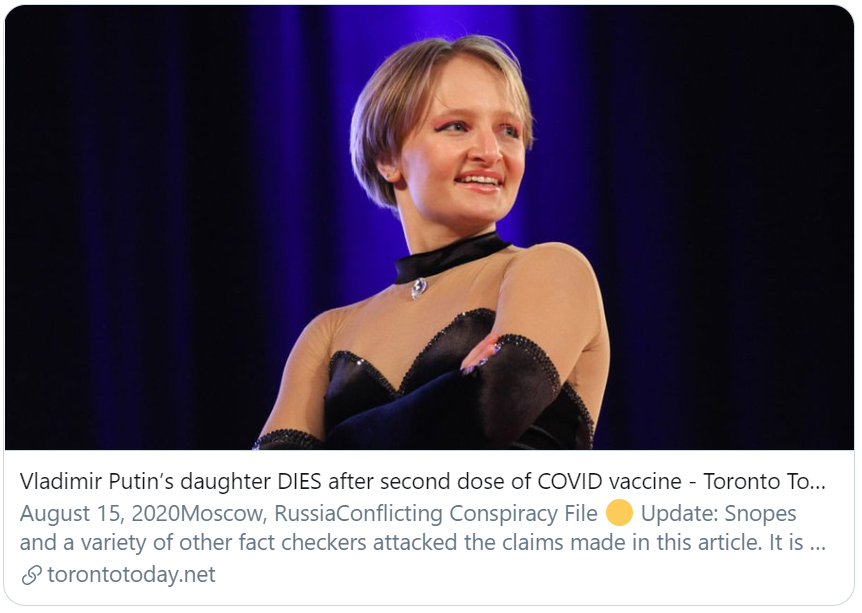 By Rei Ofuna (InFact)
A twitter post by a cartoonist Kobun Son claiming "President Putin's daughter has died after being injected with the first ever vaccine for COVID-19 developed in Russia" garners 4100 retweets after being posted online on August 17th.
The website where this information began, Toronto Today, states that "sources in Russia" say that Katerina Tikhonova, daughter of Russian President Vladimir Putin, died after a second dose of the new coronavirus vaccine (deleted, cached). However, there are no other sources nor any official statements other than this unidentified website, and therefore this information can not be said to be credible.
A link to a tarot card fortune telling video making similar claims was added to the article at one point, as well as a paragraph criticizing the fact-checking site Snopes for claiming the information to be wrong, but the entire article was eventually removed.
In Russia, a newly developed vaccine was reported to have been administered to one of President Putin's two daughters, though it's unclear if it was Katerina. After each of the two inoculations, Putin's daughter was reported to have had a brief high temperature that soon subsided.
(【Additional note on Aug 31】On August 27, Russia's state-run Tass news agency reported that President Putin described his daughter who had volunteered for the vaccination as in "in good health and "feeling well".)
Buzzfeed Japan also published a fact checking article, and pointed out that the original twitter post information was unsubstantiated.
Partial reproduction from InFact 'Weekly: Summary of Information Verification on the Internet (vol.47) ' The original report in Japanese is here.