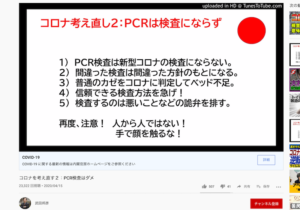 Kunihiko Takeda, a professor at Chubu University, said in a video "A PCR test is pointless as a test to detect Covid-19 as the PCR test detects not only the 'Wuhan cold' and also the 'common cold'. Both tests will come out positive". A Youtube video with the same audio content as a video posted by the Chubu University professor on his personal blog page, was widely watched and played over 75,000 times. 
However, while Takeda points out in these videos that the genes of the new coronavirus and the coronavirus that causes the common cold are similar, he did not provide any information to back up his claim that the PCR tests also detect coronaviruses for the common cold. 
According to the National Institute of Infectious Diseases' testing manual and an analytical article by the Research Institute for Microbial Diseases, all PCR tests have been conducted using information based on the genetic information (ie: RNA sequence) of the new coronavirus that has already been sequenced and released by Chinese research groups.
Professional medical organizations point out that false positives and false negatives in PCR tests can occur depending on the conditions of specimen collection and storage. However, it does not mean that PCR tests are unable to distinguish between the new coronaviruses and other coronaviruses. We, therefore, rate this information as "false".
Note: We had originally stated that the Kunihiko Takeda himself posted the video on YouTube, but it was later pointed out that this video was not the same as that posted by Takeda on his official blog. We thus replaced the link of the Youtube video with the video of the same content posted on Professor Takeda's official blog, and part of this article has been revised. (July 30, 2020)
The original fact-checking report in Japanese is here.
(Miki Ando)
INFACT is a member of the #CoronavirusFacts Alliance.
Our rating standard can be found here.