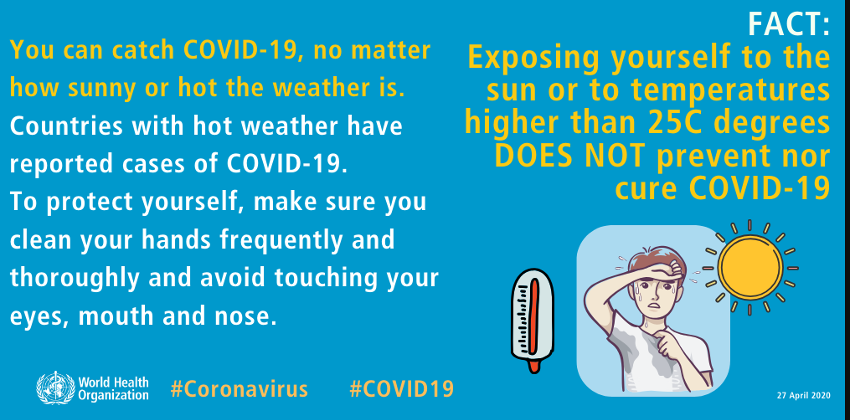 Professor Harue Okada of Hakuo University said on TV Asahi's popular TV program  "Morning Show," on May 19, 2010 that the new coronavirus is sensitive to high temperatures, high humidity and UV light, so it will come under control in the summer. However this claim is  misleading.
US President Trump, Science and technology advisor to the Department of Homeland Security(DHS) William Bryan, and a team of researchers from Beihang University have implied the possibility that hot and humid environments may deter its infection.
However, the WHO says "At this time, the COVID-19 virus can be transmitted in any climate, including areas with hot and humid weather."  WHO has called for caution saying that  "There is no evidence that sunlight kills the new coronaviruses" and "You can catch COVID-19, no matter how sunny or hot the weather is." Some papers support the WHO's claim. In fact, even in the hot and humid Southeast Asia region, Singapore, Indonesia, Malaysia and Philippine, the number of infected people has been on the increase. Prof. Shuko Miyashita, who is treating COVID-19 patients at Kansai Medical University Hospital, warned in an interview, "It is known that the known coronaviruses is weakened by high temperatures, high humidity and ultraviolet rays, but so far we are not sure about (its impact on) the new coronavirus."
The original fact-checking report in Japanese is here.
(Yoichiro Tateiwa)
INFACT is a member of the #CoronavirusFacts Alliance.
Our rating standard can be found here.